By: Evan Shlom
The Tippmann 98 is regarded as one of the most popular markers in paintball history. With a highly-customizable system, players love to customize their Tippmann 98s by creatively modifying them into sniper rifles, sub-machine guns, AK47s and many more different tactical weapons. Here are a few suggestions on different mods and upgrades you can add to your 98 to transform it into different creature of war. Some these tips can also be used on the Tippmann A5, X7 and X7 Phenom as well
The Sniper Setup:
If you enjoy staying in the back areas of the field and picking off opponents with precision accuracy; perhaps you're a sniper at heart. Provide cover fire for your frontmen and pick off key players while hiding in a secret vantage point with a sniper paintball gun. The Tippmann 98 makes a great sniper with a few simple to add modifications.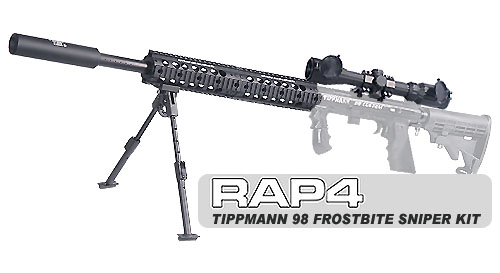 As far as the classic archetypal sniper, one of the best modification kits available for the Tippmann 98 is the Frostbite Sniper Kit. Depending on where you buy it, the kit will cost between $350-$400, however includes everything you need to completely transform your 98 into an amazingly accurate sniper. The Frostbite sniper kit includes an 18 inch raptor tactical rifled barrel, which will add much distance to your shot. The 'rifling' is a series of tracks and grooves that run the length of the barrel that glide and guide the paintball down the bore, allowing for a straighter, 'spin-free' projection. Adding a 'rifled' barrel to any paintball gun will do wonders for your accuracy, giving you a bit more distance, cutting down on how soon the ball starts to drop.
The scope included with the Frostbite Sniper Kit is a 3-9X40 Rubber Armor Scope; this is a fairly long range magnification, honestly more than what you will need with a paintball marker. Longer range, hunting rifle scopes are not necessary with paintball as their range spans much farther than the guns can shoot. Another key element of any good sniper gun is an offset mount so your scope view is 'offset' from your gun; otherwise the hopper often impedes the view. The Frostbite kit comes with a dual universal offset mount. The Frostbite Sniper kit also features a Gemtech silencer; this will act to yet further lengthen your barrel (another 4 inches), however does not actually silence the sound of your paintball gun.
If you wish to personally customize your soon-to-be sniper 98 piece-by-piece, then you should consider the 22 inch Flute Sniper Barrel. This barrel is plenty long enough and the 'flute porting' will give your ball an extra kick behind it, carrying it a bit farther. As it's common for a sniper to aim and take shots while laying in the bush, a low profile is extremely helpful. This is why a remote line is nearly essential sniper gear; this will allow you to carry your air tank on your back (or remotely) and remove it from the bottom of the gun.
The Midman Assault Setup:
This category of kits and accessories consists of pretty much every basic tactical kit on the market; there are many to choose from. What you buy really just depends on your style of play, so there aren't really too many instructional guidelines to follow while accessorizing your marker. The midman position can be a mix of both the frontman and backman, requiring both short and long range shooting, moderate amounts of movement and providing cover fire for the front players. For the Tippmann 98, a Tippmann flatline barrel is simply the best choice for a midman player. However, some midmen enjoy using 18 inch barrels (which is what some snipers use) while some have good success playing with 6 inch barrels (which seems more suitable for frontmen).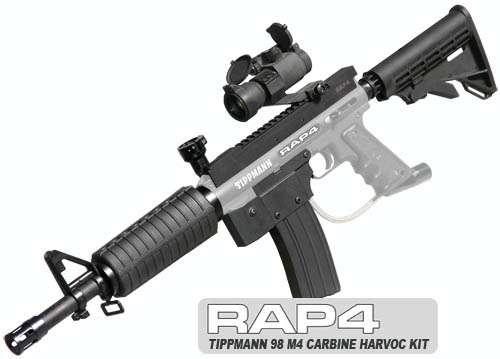 The Tippmann Recon kit is probably the best choice for an assault rifle-style package that includes the Flatline barrel. It also includes a flatline rail which can be used to attach 1X30 reflex red dot sight, a sight that's perfect for the midman position. The Recon Kit also includes the common CAR stock, which does a decent job balancing the gun. One other superb kit for the midman player's Tippmann 98 is the M4 Carbine Havoc Kit. This kit comes with an amazing M4 barrel kit and M4-style magazine to replace the original 98 stock forehandle. It additionally contains a weaver sight rail to attach the Samurai 30mm AP Red Dot Scope, which is an excellent quality dot sight. It also comes with a Carbine buttstock and a forty-five degree angle hopper adaptor, which further more enhances your aim by angling your hopper away from the scope view.
The SMG Setup:
SMG (sub machine gun) types of markers are primarily used by frontmen, however some middlemen may keep a secondary SMG in a sling, while playing most of the game with their primary assault rifle. An SMG's sole purpose is to defiantly dominate the tight bunker-to-bunker situations that frontmen often find themselves in during paintball matches.
If you plan on crafting your marker piece by piece, remember that SMGs are commonly equipped with 3 inch barrels (and generally not longer than 6"). MP5 style buttstocks work wonders on SMGs, but flexi-air system buttstocks are also great on these guns because of their ability to house the air system completely. The Crossfire CQB Kit is an excellent choice when it comes to Tippmann 98 SMGs. It comes with a 1X46 Red Dot Scope attached to a weaver sight rail; an excellent lower range scope that's easy to quickly target opponents with. The Crossfire kit also features a 3 inch barrel, clamp style feed neck and carbine buttstock.
The great thing about the Tippmann 98 is it's customizability and how readily available accessories are. You can transform your Tippmann 98 into literally any rifle that exists plus many that don't. Fortunately, modification kits and accessories for this gun are also very affordable and it won't cost you a lot to upgrade this paintball marker. For great marker variation ideas, browse a huge selection of Tippmann 98 kits and accessories at ChoicePaintballGuns.com.