The Midwest Assassins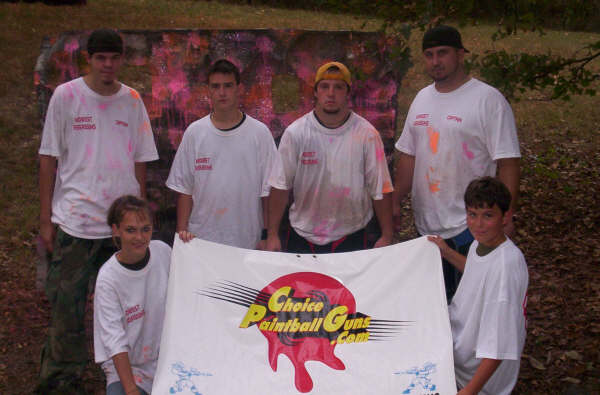 One thing's for sure, no matter what happens, the guys from Midwest Assassins paintball team are always stoked to play paintball. Playing paintball is definitely more fun with a group of your friends, so why not join or make a team? If you are looking to join or create your own team, the Midwest Assassins are an excellent team to model after; these guys take it seriously!
Fighting out of Perryville, MO., the Midwest Assassins are run by the more experienced paintball players; Travis Sauer and James Alvarez have been playing paintball competitively for 5 and 3 years (respectively) and are the captains of the team. There are 5-7 other players, all ages 18-30; all of which have played from 1-3 years with their newest members completely new to paintball. Most of the members of the Midwest Assassins are male, however recently Travis's girlfriend decided to get in on the action. She would come to all the practices and see how much fun everyone has and pretty soon she was ready to pick up a paintball gun herself. Travis was surprised at how good she was; she's a natural!
The Midwest Assassin's skills get better and better for several reasons. First of all, they practice regularly and consistently; they meet every Sunday and practice from ~1 - 6pm. They start things off with a meeting to discuss upcoming competitions, sponsorships and strategies to work on. During their practices, mostly they work in 3-man teams or one on one to prepare for speedball tournaments. Everyone practices and get's action, but Travis and James make it a point to provide coaching to younger, less experienced players to help their skills develop. They also like to videotape their practices and review them afterwards to study/correct/update their strategies - very smart! Most everyone on the team uses Smart Parts Ion paintball guns with three of their members using Spyder guns.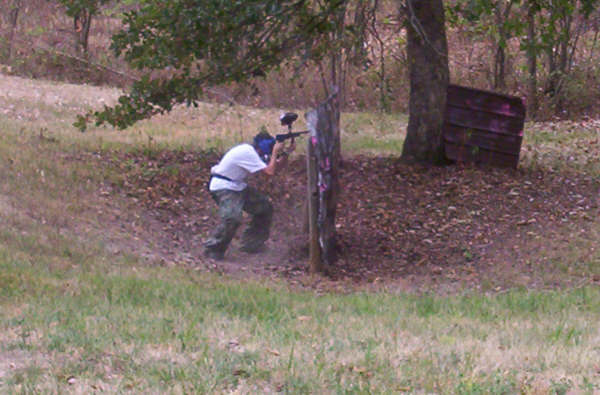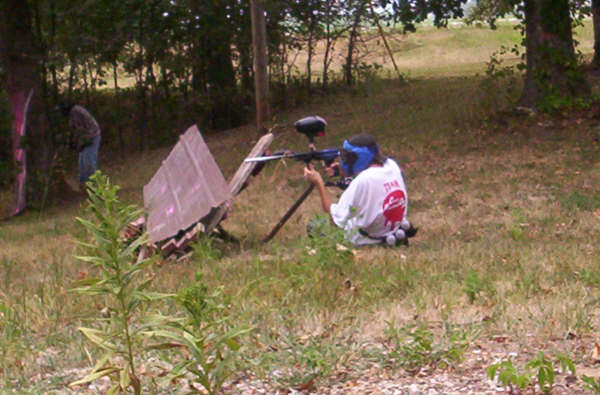 Basically, the Midwest Assassins are a young team; they started in March of 2006. They are committed to expanding and progressing as a team in every aspect possible. They bring a high energy and fun attitude to the game yet play to their fullest every time they step on the field. In 2006 they established themselves as one of the premier South East MO. teams. In 2006 they competed in 2 of 5 SiPPL events placing 15th overall and placed top 4 in their local event.
During 2007 they felt some growing pains but still managed to establish their

own Private NPPL regulation field,

remained very competitive and continued to grow. In 2008 they plan to refine their immense talent and compete in as many NPPL and XPSL events possible. They have a
goal of providing the pastime that is paintball to children of all ages, allowing them to remain focused on a team sport to keep them in shape, off the streets and involved in an organizational program. They have this written and displayed to their team members as well as definite team objectives:
Team Objectives:
To enter as many local, regional and national tournaments as possible in 2008.

To expand our roster to 30+ players with 4 divisions: Intermediate, Rookie, Beginner and Young Guns

To maintain our reputation as a solid team with good ethics and a strong ability to compete.

To grow our private field into fully functional facility to help raise funding for the team.

To be diverse. By playing as many teams as we can outside of the tournament arena and to play as many fields as we can, so that we are not too comfortable at our home field.

Continue to support our sponsors and through these efforts attract and work with others in the Industry.

To help the sport of paintball grow both in numbers and quality.
Here's the secret to getting better at paintball....stay busy and play, play, play! The Midwest Assassins know this and compete constantly; this is why their skills get better and better! They are also trying to play more tactical woodsball games as well; in 2008 you can look forward to seeing them at D-day (Feb. 5, 2008). They try to compete in rookie and novice competitions every 2-3 weeks; this helps their younger players get more experience and lets their older members get more practice.
2006 Beginner Season
5th Place

: Flipside Tournament @

Paintball Ranch

1st Place

: Flipside Tournament @

Paintball Ranch

9th Place

: Best In the Midwest @ Renegade Paintball

3rd Place

: Flipside Tournament @

Paintball Ranch
3rd and 4th Place in our division / 14 place out of 20 teams:

SiPPL

Series
2007 Season
1st Place

: Flipside Tournament @ Paintball Ranch

2nd Place

: Flipside Tournament @ Paintball Ranch

4th Place

: Best In the Midwest @ Renegade Paintball

Recent 3-Man Speedball Tournament (9/8/2007); out of 83 teams, Midwest Assassins placed 2nd! Nice job guys!
The Midwest Assassins are sponsored by ChoicePaintballGuns.com, Kick'n Paintball, Coca-Cola, Red Bull Energy Drink and Havoc Distributing. Watch for them at local and National paintball tournaments. If your team has to compete against them, good luck....you're going to need it!

If you want to see more pictures of the Midwest Assassins check out their website: http://www.freewebs.com/midwestassassinsteam or you can contact them at: texasholdem485@msn.com . These guys are always ready to compete; if your team is in Perryville, MO. and you're looking for a challenge, the Midwest Assassins stand ready!